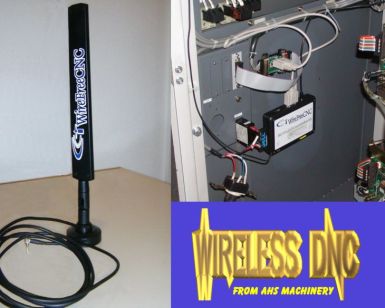 Connecting the Shop Floor to the Office… Without Wires
A WIRELESS NETWORK is simply a Broadband network without the wires.
Although this version of network is most effective in shops with high bays, overhead cranes, numerous machines, or frequently changing floor plans; lower costs and higher reliability are fast making it the choice for all shopfloor broadband networking.

IN A WIRELESS NETWORK, data is transferred between an office PC (server), via a single Ethernet cable, to a centrally mounted shopfloor Transmitter/Receiver (Access Point).
The Access Point broadcasts the data to shop floor, where a large number of wireless network units can access it.
For part-program transfers to machine tools, special Ethernet-to-Serial converters are mounted on each machine. The converter units connect to the Machine's RS-232 port, and even support "drip-feeding". Since each serial cable is generally less than 3 feet long, data integrity is superior to a conventional serial network. And without all of the overhead wiring to bother with, machine location (or re-location) is never a problem.
SECURITY is not really an issue in a properly established wireless network. The use of data encryption and various other features make it virtually impossible for "outsiders" to see your data.
---
Benefits of Wireless:
A wireless network offers the most benefits for your Networking Dollar.
FAST AND ACCURATE DATA FLOW – Because a Wireless Network is a Broadband LAN, data transfers at an extremely high rate, and has error-correction built-in.
MINIMAL WIRING – Ideal in shops with high bays, overhead cranes, numerous machines, or frequently changing floor plans.
LIGHTNING RESISTIVE – Overhead cables collect electrical surges from lightning. Those surges can damage your electrical equipment.
LARGE WIRELESS INFRASTRUCTURE – Think beyond simple part-program transfers. A wireless network allows laptops, PDA's, barcode scanners, etc. to connect to the network. This allows future expansion for adapting to business needs.
INFORMATION WHERE YOU NEED IT – use that infrastructure to access Drawings, Setup sheets, Machine Status, scheduling information, or a variety of other documents.
COMPETITIVE COST – Because of the minimal wiring, the cost of an installed wireless network can be equal to or sometimes lower than a comparable hard-wired network.
---