There are numerous ways you can increase your productivity with a very small investment.
Shown below are examples of solutions we have developed. If you have a problem area, give us a call to discuss possible solutions.
---
SpiderCool

from $2,195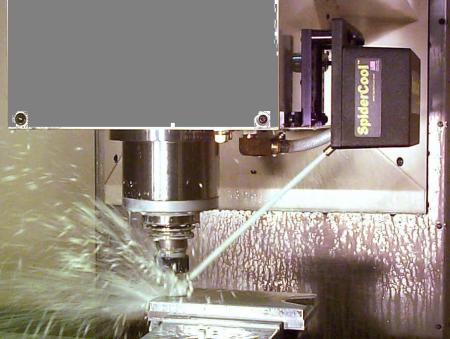 This is a third party product that we distribute, support, and install. It uses a programmably aimed nozzle to direct the coolant efficiently. If you've never seen this in action, you'll really want to visit their website, www.spidercool.com then give us a call.
What exactly is SpiderCool?
SpiderCool is an Automatic Coolant Nozzle System for machining centers.
The SpiderCool system consists of:
Nozzle assembly
Control unit,
Remote adjustment knob, cabling, and mounting hardware.
A closed loop servo motor automates the coolant stream.
SpiderCool memorizes where coolant is aimed on each tool, then adjusts automatically while the machine is running. oriented so the coolant stream is aligned to the spindle centerline.
On standard installations, the machine's existing coolant pump is plumbed to the SpiderCool and the same Coolant ON-OFF commands are programmed into the control.
A higher volume/pressure coolant pump can be installed to dramatically improve cutting performance.
---
GE Mark Century 550 Power Supply

$1,200
For less than the cost of repairing either the +5 volt or the +12v/-12v power supplies in your GE 550 control, we can provide a "Ready to Mount" Power supply which will replace them BOTH in a single unit.
The advantages, (besides the lower cost), are:
Compact size, the new unit is smaller and lighter than either original
Uses less power. New efficient design wastes less energy, creates less heat
Maintenance Simplification. All Power connections are in one place with large easy to read labels.
Easy Installation. All wiring to the unit is Screw Terminal connection.
---
Programmable Feed Motor Load Monitor

$1,525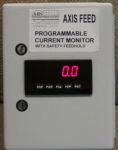 Our customer wanted to run his machine unattended, but worried about damaging valuable tooling if/when an insert breaks. We designed this unit to monitor the feed axis load, and generate a feed hold when abnormally high values occur. The threshold trip can be set for instantaneous or delayed, and we even provided a way to use an available M-code to select a second threshold level (or disable the unit).
---
Digital Tachometer

Just an example of how a small upgrade can make a big difference. We replaced a broken analog tachometer with a bright digital display unit. The operator no longer has to guess about his spindle speed!
---